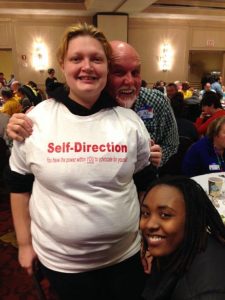 Learning to advocate for oneself is a core component of the Delta Projects framework and something we try to instill in all of the individuals we support. To advance this idea, the Delta Projects Self Advocacy Group was introduced in 2011, with a first meeting attended by 5 people. Meetings now regularly average 35-40 participants with far more attending the regular social events sponsored by the group.  Since its inception, the Self Advocacy Group has established a board of directors, elected officers, voted on its mission and vision and drafted and adopted a Bill of Rights.  There are 4 committees that assist the group as a whole in planning: Activity Planning, Political Action, Volunteering and Setup/Cleanup.
Activity Planning Committee The Activity Planning Committee is responsible for proposing and organizing the many social events sponsored by the Self Advocacy Group throughout the year.  Past events have included many potluck suppers, bowling, dances, outings to Six Flags, museum visits (including the MFA, New England Aquarium, Isabelle Stewart Gardener Museum, DeCordova Museum and JFK Library), nights out at Patriots Place and candy and bake sale fundraisers.  The Activity Planning Committee also brings in guest speakers and plans educational opportunities including trainings in abuse prevention, financial management, self-direction, human rights and employment.
Political Action Committee The Political Action Committee is tasked with understanding federal, state and local government, learning about bills affecting the members of the Delta Projects community and getting others to advocate and vote.  The Political Action Committee has also organized several outings to the Massachusetts State House for large advocacy events, both with other advocacy groups and on their own.
Volunteer Committee The Volunteer Committee identifies and organizes volunteer activities for participation by members of the Delta Projects community, with a goal of 2-3 events per year.  Past volunteer activities include the MSPCA Save the Animals Walk, the Greater Boston Food Bank and the Walk for Hunger.
Setup and Cleanup Committee The Setup and Cleanup Committee ensures that the meeting room is set up for the meeting and cleaned and put back in order immediately following the meeting.
The Delta Projects Self Advocacy Group meets the second Monday of every month.
For more information on the Delta Projects' Self Advocacy Group or Rainbow Support Group, please email: info@deltaprojects.org
Delta Projects Self Advocacy Group wins Statewide Recognition for its work!