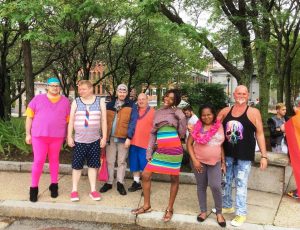 When a member of our community was questioning his own sexuality and had no support groups to turn to, Delta Projects, with the support of Mass Advocates Standing Strong, created the Delta Projects Rainbow Support Group, a safe space to talk openly about LGBT topics with supportive peers. Meetings are open to individuals of all gender identities for exploration and support with different expressions of sexual orientation, including those who identify as lesbian, gay, bisexual or transgender, their advocates, or anyone looking for more information on LGBT issues.
In addition to its function as a peer support group, the Rainbow Support Group has developed a popular social component, with members enjoying regular events in the LGBT community including Boston, Worcester and Providence Pride celebrations, performances of the Boston Gay Men's Chorus and RuPaul's Drag Race, day trips to Ogunquit, ME and tea dance and brunch at Club Café.
From its origins in support of a single individual, Delta Projects' Rainbow Support Group has grown to include regular participation by 10-15 people both within and outside of Delta Projects, and continues to grow. Regular meetings are held every other month, with community events scheduled on a regular basis.
2021 Meeting Schedule
August 18** for this month meeting held on 3rd Wednesday of the month
October 13
December 8
For more information on the Delta Projects' Rainbow Support Group, please email: info@deltaprojects.org